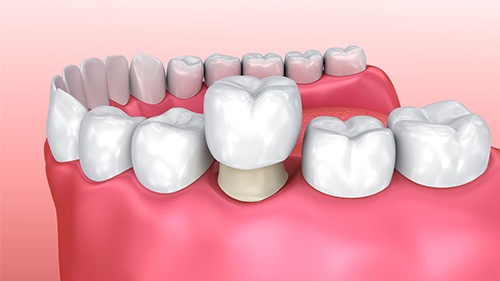 At Valley View Dental, serving Romeoville, Naperville – Plainfield and Montgomery, IL your dentist expertly places restorations that bring dental crownssmiles back to full function and natural-looking aesthetics. If you have a tooth that is deeply decayed, cracked or just poorly shaped, you can repair it with a dental crown. Custom-made to fit over remaining healthy tooth structure, a dental crown covers and protects a less than perfect tooth, avoiding extraction and distressing smile gaps. Do you need a crown?
The details on dental crowns
Dental crowns have been around for generations. Currently, your dentist has several materials they can choose from to craft a crown. All-porcelain is the most lifelike, and gold is the most durable, but whatever it's made of, your dental crown will lengthen your tooth's life span, depending on how well you take care of your mouth and whether or not you grind your teeth, say dentists at the Cleveland Clinic.
The treatment process
Your Romeoville, Naperville – Plainfield and Montgomery dentist does a complete oral exam and digital X-rays to be sure a crown is the proper restoration for your situation. If it is, you'll receive some locally-injected medication to numb the area around the tooth so you're fully comfortable. Then, the dentist will remove the damaged enamel and shape the remaining structure. They will take oral impressions to ensure accurate fit and bite for your restoration.
The oral impressions accompany the doctor's treatment plan and are sent to a trusted dental lab for fabrication of your lifelike restoration. While you wait the week or so for your crown to return from the lab, you wear a temporary crown to keep your smile functional and attractive.
Then, when you come back to Valley View Dental, the doctor removes the temporary and installs the permanent crown with special bonding adhesive. The bite and fit are adjusted to optimize your oral function.
Taking care of your crown
It's as simple as brushing twice a day and flossing daily as the American Dental Association recommends, and you should come to Valley View Dental every six months for an examination and hygienic cleaning. That's it. With good care, your crown will last for at least 10 years or more.
In addition, you should know that your dentist often uses dental crowns to support either side of fixed bridgework to replace one or more missing teeth in a row. Dental crowns also cover and protect today's premiere tooth replacement–the dental implant.
So now you know
You may not have to extract that sickly tooth. Contact Valley View Dental serving Romeoville, Naperville – Plainfield and Montgomery, IL for a consultation, and learn if a dental crown could improve your oral health, function and appearance. We have three locations to serve you.