Valley View Dental has on-site dental labs at each of our offices. This enables our team to provide you with high-quality restorations on-premises, without the need to refer anything out to other labs for fabrication. We invite you to call our office today to make your appointment and learn more about dental labs in Romeoville, Naperville, and Montgomery, Illinois.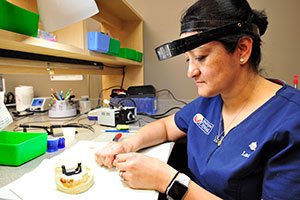 By having a dental lab at each of our practices, we can ensure that each restoration or appliance we create is of the highest quality. Our labs are frequently used to create dental crowns, dentures, and models, reducing your waiting time between appointments and ensuring that each treatment is fully customized to your individual needs. We are committed to helping you regain a healthy, functional, and beautiful smile.Benefits of having an on-site dental lab include:
Complete quality control so that we can be certain you are receiving excellent care and solutions that meet your needs.
Minimizing the time you have to live without teeth or go without a solution for your smile.
Quicker creation of restorations and oral appliances.
All treatments can be provided in-house – there is no need to refer you to a specialist!
If you have any questions about our dental labs or to set up your consultation with one of our experienced dentists, please contact our practice today.