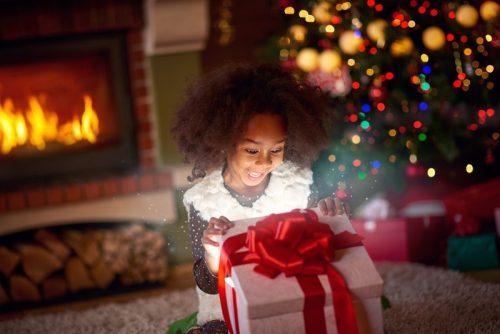 Smiling boosts endorphins for the people who do it and those who receive it! A healthy, vibrant smile can work wonders for a person's self-esteem and self-confidence. It's good for your mental and physical, including your heart! Smiling is also contagious and it's one of the reasons people smile more over the holidays, as they are happier and in a spirit of giving. A smile spreads joy and cheer wherever it is spread!
Tooth-Friendly Gifts
Our Valley View Dental team has some gift ideas that can help you create smiles all year round, and not just for the holidays. We have smile-friendly gift ideas that can be tucked into stockings over the mantel or packages under the tree. It's still not too late to boost your family's smiles for 2022!
Gifts For Kids
-Tuck some child-sized toothbrushes in their favorite characters and colors into their stocking! Don't forget their favorite toothpaste flavors and kid-friendly flossing tools like threaders.
-Your little one may love a stuffed plushie hidden under the tree that comes with its own toothbrush. They can practice brushing their toothy plushy as you show them how it's done!
-Acquaint them with the tooth fairy with a tooth fairy pillow, picture book or a cute container for their lost teeth!
-Healthy smile picture books that reinforce healthy daily dental hygiene habits that will last a lifetime.
Gifts For Older Children and Teens
-Upgrade their manual toothbrush to take the worry out of consistent, thorough brushing. An electric toothbrush cleans thoroughly and efficiently and they just need to brush at least two minutes each session.
-If they dread flossing, a powered water flosser/oral irrigator can help them remove oral debris between teeth and the gumline.
-Your sports enthusiast might love a custom mouthguard or even a boil and bite one from a local sporting store.
-Teeth whitening is another popular gift for teens.
Gifts For Adults
-Does your spouse travel? Why not give them a dental travel kit that has everything they need on the go in a convenient carrying case.
-Adults love using powered toothbrushes and water flossers to keep their mouths feeling fresh, clean and ready for their busy day.
-Give them a cosmetic dentistry gift certificate for professional teeth whitening treatment to get rid of deep stains, dental veneers to fix front tooth flaws or orthodontics such as Invisalign® and other clear aligners to give them the straightened smile they want.
As you can see, there are a variety of gifts that promote healthy, beautiful smiles all year round, and don't forget to treat your own smile!! Our Valley View dental team has three locations and invites you to call or visit us at a location nearest you! Your family's oral health means the world to us!