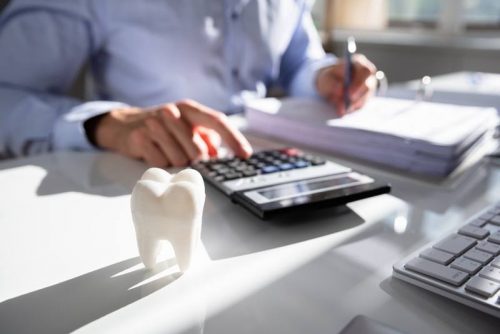 Your Tax Refund Can Help! 
Have you considered using it to invest in your smile instead of another vacation, new wardrobe, or replacing appliances? Using these extra funds to finally get the smile you want this year may be one of the wisest choices of all! Especially if you're tired of living with damaged, failing, or missing teeth for far too long.
Investing in your oral health and smile esthetics can give you additional benefits personally, professionally, and socially if it means you'll finally feel confident about your smile's appearance. Whether you opt for just a few simple (but visually dramatic) dental restorations or embark on a full smile makeover, Uncle Sam's refund can often help you get there! Especially when you factor in your dental insurance, a health savings account, and the financing options Valley View Dental offers.
Let's talk about confidence for a moment. Having a smile that looks good can change your entire self-image with stronger self-esteem. With just a few well-chosen options, you can get rid of discolored, unsightly teeth, fix crooked teeth and even hide missing teeth! Unattractive silver fillings can always be replaced and when your teeth are well-cared for you won't be in constant pain. With a new, healthy smile, you might even be inspired to ditch that extra weight and feel more outgoing at work or in social settings with your renewed confidence.
What Kind of Smile Makeover do you want?
For a mini smile makeover, you can upgrade those silver fillings to tooth-colored ones, correct small smile flaws with dental bonding, and opt to have teeth whitening done. Just making some small changes like these can make you feel better about your smile and yourself! And these are not expensive or time-consuming fixes to have done.
For a bigger smile makeover, you can pursue the smile of your dreams, investing more time and money for amazing results you can feel proud to show off. This might involve having porcelain veneers done for a flawless result that can complement your facial appearance, your mouth, skin tone and even your tooth enamel by giving you the size, shape and length of teeth that look best in your smile. Dental implants can be done to replace missing teeth so that your smile looks, feels, and functions beautifully again. If you just have teeth that are worn down, you can replace them with porcelain crowns so they look great in your mouth.
Ask yourself what you want most from your smile makeover:
-A full set of attractive and functional teeth?
-Being able to eat healthier, more nourishing foods that are fresh and crunchy?
-Feel like smiling wherever you go?
-Get rid of tooth pain by fixing or replacing a damaged tooth?
-Look (and feel) younger and healthier again?
-Get the respect you want from your colleagues and other professionals?
-Feel healthier in general because of better dental health?
If you answer yes to any of these questions, we are here to help!
We offer:
-Dental bonding
-Porcelain veneers
-Orthodontics – braces or clear aligners
-CEREC same-day dental crowns
-Dental bridges
-Tooth-colored fillings
-Dentures
-Dental implants
-Root canals
-Opalescence Boost™ teeth whitening
Call Today!
Whatever your oral health needs, our Valley View Dental team has been helping people just like you for more than 20 years achieve their smile goals. If you want to take the next step in your oral health care in Romeoville, Naperville, Montgomery, Illinois, and the surrounding suburban areas using your tax refund, our dental teams are ready to help! Call today and we will gladly schedule you for a consultation. We look forward to helping you achieve the dazzling smile you deserve!