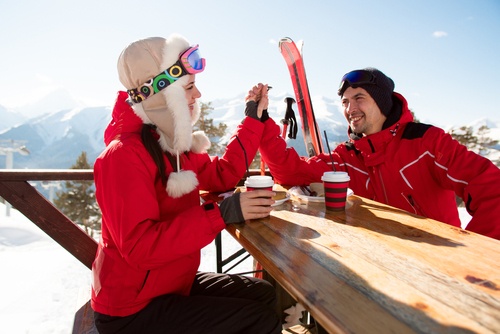 Winter is a busy time of year with all the festivities going on around us. This holiday season, we have some simple tips to help you and your family navigate the snowy months while keeping your mouth healthy and strong! Speaking of holidays, whether you're indulging in spicy wassail, eggnog or a good merlot, your teeth can pay the price for it with tooth stains. Not only that, but combined with all the traditional cakes, pies and cookies this time of year, those sweets can do a number on your teeth as they feed cavity-causing oral bacteria!
Consume Sparingly
Caramels, peanut brittle, divinity, toffee, candy canes, peppermint bark, fudgy truffles
Dried fruit like apricots, figs, raisins and prunes
Alcohol which is high in sugar and dehydrating
You want to find the right balance between making the most of this season while also doing your best to keep your teeth and gums cavity and gum disease free! This is especially pertinent if you have a dental crown, filling or bridge since they may be affected by continual snacking on gummy and sticky treats which could loosen a restoration. If you do indulge in your favorite goodies, rinse your mouth well and brush and floss thoroughly afterward. And although it's tempting, now is not the time to skip your daily oral hygiene routine, even when you're exhausted at the end of the day. Your teeth and gums need consistent care to stay healthy and bright!
Oral Protection During High Impact Activities
Winter sports are exhilarating but also potentially harmful to the mouth! Recreational sports like skiing, ice skating, snowboarding, sledding or hockey, can damage your smile on impact. Wearing a boil and bite mouthguard can help shield your mouth from injury to your teeth, arches, lips and gums. They also distribute force evenly over all of your teeth so none bear the brunt of a severe impact. Wearing a sports guard can help you prevent these mishaps:
Cracked, broken or knocked-out teeth
Concussive effects by protecting both upper and lower teeth
Jaw fracture or breakage
Soft oral tissue damage
Boil and bite mouthguards can be found and customized at any sporting goods store or online. Keep your mouthguard with you as you would your car keys and sunglasses and wear it whenever you are participating in a high-impact activity, indoors or outdoors!
A Timeless Present – The Gift of a Healthy Smile
Your smile is vital to your overall health and wellbeing. It serves as a gateway to good health as you chew your food, sing holiday carols and kiss that special someone under the mistletoe! Our Valley View dental team wishes you and yours a joyous holiday season while keeping your smile healthy and flashing those pearly whites brightly into the new year!