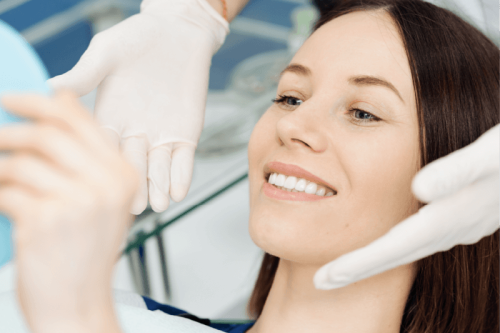 Imagine what it would feel like to look into the mirror and see only natural-looking but flawless teeth? Our porcelain dental veneers with their tooth color and translucence can give you the smile you have always wanted! Dental veneers have the power to address your smile's cosmetic concerns and enhance your teeth for long-lasting results.
The Beauty of Dental Veneers
These ultra-thin, stain-resistant shells are bonded to the front of your teeth so they look absolutely flawless. They are a permanent solution to teeth that don't look their best because of imperfections in your teeth. Not only can they be matched to blend in seamlessly with your own natural teeth, but they can also last for ten or more years!
The beauty of dental veneers is that they can be used for just one tooth or all of them depending on your needs! They are ideal for closing big gaps or spaces that stand out between teeth. Dental veneers can even fix those irregularly shaped teeth in your smile and teeth with minor misalignment as well as any teeth with a fracture or chip.
Dental veneers are a popular choice for adults because they are fairly quick to apply and can straighten teeth without wearing braces to transform your smile. They are also a permanent solution and don't need to be removed like dentures. Our quality porcelain veneers are durable and strong so you can bite, chew, smile and laugh like you always do! But one of the biggest benefits is that dental veneers give you the dazzling, flawless smile of your dreams. And they are easy to care for — just brush and floss regularly to keep your gums healthy and your teeth bright!
Cosmetic Treatment
You no longer have to be a celebrity to invest in the beauty of dental veneers. Today, almost anyone can opt for this smile-enhancing cosmetic dental treatment, as long as you are an adult and have an otherwise healthy smile (no extensive tooth decay or gum disease).
Our Valley View dental team invites you to call or visit our office today to learn more about custom dental veneers and how we can help you create the smile of your dreams. We are excited to help you find out if porcelain dental veneers in Romeoville, Naperville and Montgomery, Illinois, are a viable cosmetic treatment for your smile!