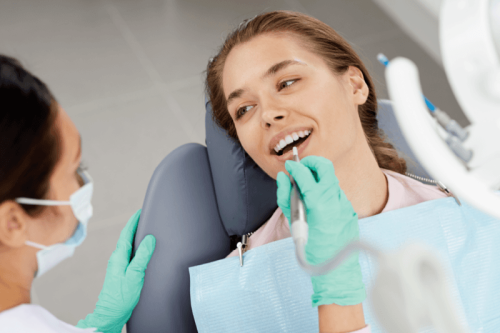 Did you know that Gum Disease Awareness month has been declared in all 50 states, Guam and the U.S. Virgin Islands? Or that gum disease is the number one cause of tooth loss?
February has been officially designated as Gum Disease Awareness Month, and we are ready to help raise awareness and encourage better oral health habits in our patients to prevent this insidious disease.
Gum disease, or periodontitis, is when your soft oral tissues (your gums) and bone supporting your teeth become inflamed and infected. You may notice it in the early stages when your gums appear red, swollen and inflamed. This early stage of the disease is called gingivitis. When properly treated in this stage it can still be reversed! But left untreated, it will only continue to worsen and steadily turn into periodontitis. This is exactly what you want to avoid because at this stage the gums will start to pull away from your teeth, making them loosen and even fall out as more and more bone density is lost to the disease.
Advanced Gum Disease
When it comes to your oral health, the last thing you want is periodontitis. Unfortunately, around 47.2% of adults in the United States who are 30 plus years are dealing with some type of periodontal disease…and it only gets worse with age.
So how can you end up with this harmful oral disease? Periodontitis arises when plaque-causing bacteria in the mouth infect the soft tissue surrounding your teeth. This causes inflammation to set in, especially when this harmful dental plaque is allowed to harden into tartar and spread to the gums underneath, at that point, normal tooth-brushing won't remove it. Instead, our dental hygienist will need to use special tools to clear it out so that periodontitis can't gain a foothold.
Prevention is Key
It's not hard to keep gum disease away from your smile. Ideally, you brush and floss daily and come see our dental team routinely before gum disease sets in. Gingivitis can be reversed in the early stages. One it advances, our dentists may need to do a deep cleaning of your tooth root surfaces underneath your gums, possibly using medications or gum surgery to turn it around. That's why we recommend seeing our dental team as soon as you notice that your gums are red, inflamed or bleeding.
Because gum disease is a harmful oral health concern, keeping your mouth healthy with ongoing daily care is crucial to keeping your overall health better as well. Combining daily oral hygiene care with regular checkups go a long way to protect your smile and your body from harm!
Spread the Word
This February, we welcome you to help spread the word about this serious disease. Consider joining the social media community on Twitter and Facebook. You'll be privy to the most current updates and information regarding gum disease as well as the ability to share posts or repost this valuable information to your social media accounts:
Facebook: www.facebook.com/fightgumdisease
Twitter: http://www.twitter.com/fightgumdisease
Check out this website to find out more:
www.fightgumdisease.com
We hope this information has motivated you to take even better care of your gums and teeth and invite you to join us in creating awareness of Gum Disease this February. We look forward to your posts and your visits with our dental office in Naperville, Romeoville or Montgomery!