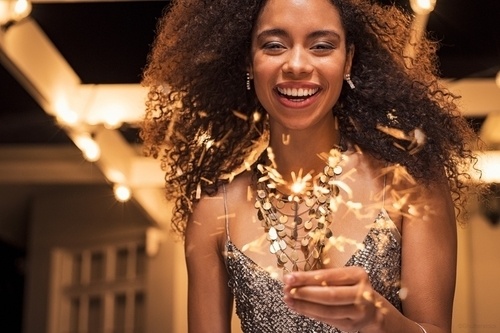 Dental care has always been safe and is essential to your overall health. It's a new year and with it comes the resolve to better our health. But don't forget your smile, as it deserves some extra care as well! Our tip to help you prevent tooth decay and cavities is to consider having regular fluoride treatments, typically after you have your six-month cleaning and exam. The majority of the medical community recommends fluoride treatment as a safe preventative measure for your smile and body, and that the tiny amount of fluoride that is ingested after the application leaves no acute toxic effects behind.
Our dentists recommend these fluoride treatments which can be applied as a varnish to help keep your tooth enamel strong and cavity resistant. They are especially helpful for children who have a hard time brushing and flossing their teeth every day. In fact, tooth decay is common in children who are between 5 and 11 and teens between 12 and 19. Fluoride treatment has made a big impact in preventing cavities in those age groups. Protecting growing chompers will make sure their adult teeth coming in will be healthier as well since the primary teeth are vulnerable to cavities. Along with children and teens, a fluoride varnish can also help adults with sensitive teeth, thin tooth enamel or enamel erosion from teeth grinding, or have chronic tooth decay.
What is fluoride varnish, and how does it work?
A fluoride varnish treatment is one of your strongest defenses against tooth decay, especially if you or your child have sensitive teeth or are cavity prone. Fluoride varnishes have been around for a long time, and typically contain a 5% solution of sodium fluoride base. The varnish is applied onto teeth where saliva helps it become absorbed so that it can cling to the tooth. The tooth enamel then remineralizes and becomes stronger for longer. Once the enamel absorbs the fluoride, the protection lasts for 3 to 6 months and offers desensitization of the tooth, making it ideal for people with sensitive teeth.
We prefer fluoride varnishes to gels or liquid. It is also effective on teeth that have had restorative dental work done in the past such as teens and adults who have fillings. Another potential benefit to having a sodium fluoride varnish treatment is that it can help reverse the early signs of tooth decay (white spot lesions).
Fluoride varnishes are easy to apply and non-invasive, so there's no discomfort in the application. According to the American Academy of Pediatrics, you might consider having your child receive a fluoride varnish if they are eligible for Medicaid, were premature, have a brother or sister with cavities before age six and have special health care needs. If your child regularly consumes sweet or starchy snacks three or more times a day, they will greatly benefit from fluoride protection.
Although your city may include fluoride in your water supply, it may not be enough to fully protect your teeth. That's where our fluoride varnishes can help! We are also happy to recommend tooth protection products like Sensodyne toothpaste for patients with sensitive teeth and Biotène for those with chronic dry mouth. Our Valley View dental team takes your dental health seriously, and will only recommend products we trust with our own families. To learn more, or to schedule your family's next dental cleaning and exam with a fluoride treatment, please call us at the location nearest you in Romeoville, Naperville and Montgomery, Illinois. We are here for your smile!