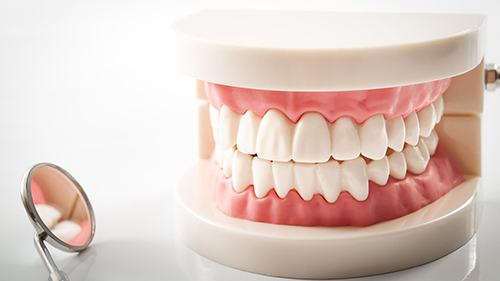 Dentures offer a great way to replace missing teeth. Dentures are a viable procedure for patients looking for an effective and safe way to denturesimprove their smile. Valley View Dental serving Romeoville, Naperville – Plainfield and Montgomery, IL and their professional dental team has years of experience using dentures on a variety of patients.
More About Dentures
Full dentures are used to replace both top and bottom teeth. These false teeth are attached to a base that is placed against the gums and the roof of the mouth. The proper fit is essential. When dentures don't fit right, it can be hard to speak and chew. Our dentists can offer the best dentures that fit right.
Immediate dentures are placed in the mouth immediately after any remaining teeth are extracted. Prior to this extraction, our dentists will take molds of your teeth used to make your dentures. They may need to adjust the dentures over time to make sure they stay with the best fit. Partial dentures are a great option for those with just a few missing teeth. These removable dentures hook over the end of the teeth on each side of the gap.
Dental implants can also be used to replace a single tooth, but as a substitute for traditional dentures too. When you choose implants, posts are implanted directly into the jaw bone. They are used to anchor dentures in the mouth in certain patients. A healing process is needed before the actual implant can be placed. When you're not unsure of which dentures will work best for you, it's time to seek the help of the professionals at Valley View Dental serving Romeoville, Naperville – Plainfield and Montgomery, IL. If you're interested in hearing more about dentures, schedule a comprehensive appointment and examination today.